Two of the most exciting projects at present in the FWBO/TBMSG are the
Dhammakranti outreach project
in India and our new contacts with the
Gypsy community in Hungary
.
In both cases we are making links with new and relatively deprived communities who have become interested in Buddhism, in both cases we want to respond both by offering Dharma teaching and helping them move forwards socially and economically. And so, in both cases we are launching English-language teaching projects. We are therefore seeking English teachers for both – please see below for further details.
Mitraloka School of Languages – Nagpur, India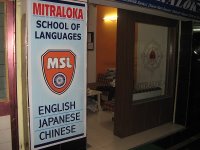 Teachers of English are needed in the newish, small language college at Nagpur. Teachers for 'conversation classes' is wanted for 2-3 hours a day. Classes will be of approx 25 adults, aged 16-60. The students already read and write English, but need more confidence when speaking.
Mitraloka also offers Japanese classes, and hopes to offer Spanish, French, and Chinese – Nagpur is rapidly modernising and there is great demand for tuition in all languages.
See the Mitraloka
School of Languages
website for some more information.
The tutor would be provided with room and food, but would need to fund their own travel and pocket money.
Jai Bhim community – Hungary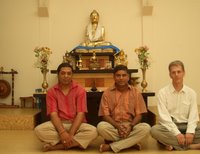 In Hungary the newly converted gypsies need an English teacher for their school, in the north-east of the country near Tomor. The students are aged 14 upwards. Readers of FWBO News will know that this community of gipsies, through their strong feelings for Dr. Ambedkar, have converted to Buddhism, and are making stronger and stronger links with the FWBO and TBMSG - hosting visitors from the UK and India, and by themselves visiting both the UK and India.
They are now eager to improve their English, in order to learn more about the Dharma, and – very importantly - improve their chances in the job market. Like their Dhamma brothers and sisters in India, they hope to leave centuries of alienation behind and have access to a more spiritual path.
The teacher would be provided with a flat. They would need to fund their own travel and pocket money. It is hoped teachers would stay for four or five months at a time.
See the
Jaibhim Community
website for some more information.
Besides visiting teachers, other ways to respond are being explored, such as on-line tuition via 'Skype' or Podcasting. If anyone is interested in these please contact us. TEFL and teaching experience are desirable but not essential in both cases - plus of course a love of the Dharma.
In all cases, to apply or to discuss possibilities, please contact
Aryamati
or telephone her on (0161) 833 1984. Please note that she is on retreat from 26 Oct to 20 Nov.