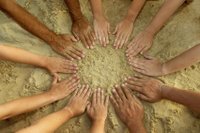 The FWBO's first
International Retreat
is taking place in May, at
Taraloka
, in Shropshire, UK. Vajragupta is the overall organiser and is making this request for help.
"We'll need a team of volunteers to set-up, run, and set-down the event. They can obviously have a free place on the retreat and, although they will have some work duties, these won't be so heavy that they couldn't take part and enjoy it too. They will need to be available from Sunday 18th May and, after the event, until 28th May. They'd need to be willing to camp and work hard, including physical work!
"During the set-up period we plan to have some kind of retreat-like programme and teaching for them too. Again, it won't be all work!
"If you are interested please
email me
or phone (UK) 0121-447-7427. Please could you also advertise this to others you know who might be suitable, the best would be to personally invite them to think about it. It could be a great way for someone to contribute and also get more involved in the FWBO".
Labels: retreat centre, UK