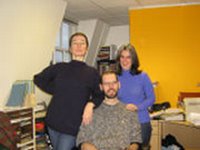 The Appeals Team at the
Karuna Trust
are looking for a male fundraiser/trainee trainer to join us in 2008.
We are a team of 3 fundraisers/trainers, currently two women and one man, who work closely together to run at least 6 Appeals a year. We also work within the wider Karuna team on a variety of projects and initiatives.
You would be:
· A successful fundraiser (no previous experience necessary – we'd train you) who engages with door-knocking as a spiritual practice
· A good communicator and committed team-player
· Someone who can take initiative and function independently
· Committed to practising the Dharma within the FWBO; an Order Member or Mitra seeking ordination
A full-time support package is available, including accommodation in the Karuna community in North London.
Initially, we'd ask you to do at least 2 appeals in 2008 so we could get to know you, and so you could see whether the work is for you. We could offer a short-term financial package to support you both during and between these Appeals.
If you're interested, please contact
Santavajri
,
Jo
or
Khemajala
Tel. +44 (0) 207 700 3434
Email: Santavajri [at] karuna.org; Jo [at] karuna.org; Khemajala [at] karuna.org
Labels: fund-raising, Karuna, UK