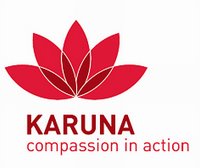 Since 1980 the FWBO's
Karuna Trust
has been initiating social work and Dharma projects amongst some of India's poorest and most disadvantaged communities. The majority of funding for this work comes from thousands of individuals across the UK who, having met with a Karuna fundraiser, have taken the decision to contribute money to Karuna regularly by standing order. Jo, who works there, writes with news of no less than 3 new opportunities to contribute to Karuna's work. She says -
Hi everyone,
Just wanted to let you know about some new opportunities at Karuna...
Phone for Karuna…

Oct 19th – Dec 4th (4th week off)
London only (3pm – 9.30pm weekdays)
Based in our London office, we will be phoning existing Karuna supporters. On average 30% of supporters choose to donate more money to Karuna as a result of their conversation with us. This is a great opportunity for anyone who is interested in exploring skilful communication alongside other practicing Buddhists. Financial support is offered so do get in touch if you would like to join this autumn's team.
Call Jo on 0207 697 3006 or email
jo@karuna.org
.
Knock for Karuna…

Appeal dates for 2010 are on our website now - check www.appeals.karuna.org . Do an appeal and fundraise for projects that build self-worth and change the lives of those born at the bottom of a harsh social system in India.
We would love to hear from you if you would like to do an appeal in 2010.
Call Pete on 0207 700 3434 or email
pete@karuna.org
Live Together for Karuna…

(Men only)
We are offering:
A house to live in, in London
Blocks of 6 weeks fundraising followed by at least one week off
Total of 10 weeks leave including trip to India
A deep exploration of fundraising as Dharma practice
Contact Khemajala on 0207 700 3434 or email
khemajala@karuna.org
That's it folks! Hope at least one of these whets your appetite...
Jo :)
Labels: fund-raising, Karuna, London