Valencia's prison program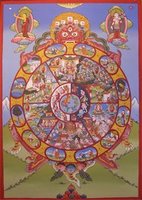 The FWBO's Valencia Buddhist Centre, in Spain, recently celebrated the start of the third year of their prison visiting program, dubbed the 'Wheel of Life' project. By all accounts it has been a ground-breaking success, both for the Buddhist centre, the inmates, and the Spanish prison authorities. They teach meditation and Dharma in Picassent prison, where they are the first to be permitted to work with the Basque prisoners from ETA.
Saddhakara, the Centre's chairwoman, has written an account of the
project's history
which you can find on the
FWBO Prison Dharma
website. Here you can find reports from most of the FWBO's prison visiting programs, especially those in the US.