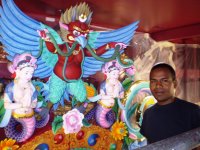 For some years now the FWBO/TBMSG has owned land at Bodh Gaya, site of the Buddha's Enlightenment. Development on our land has been slow, partly due to its distance from all our other centres, including TBMSG's Indian centres, plus the difficulty of operating in Bihar – one of India's most backward and lawless states. Things are now starting to move – over the past two years two very spacious 'huts' have been constructed, offering accommodation for visitors and the small residential community, trees have been planted, and activities are beginning.
Thanks to the Nagarjuna Training Institute in Nagpur, there are now ten Bihari mitras in and around Bodh Gaya, plus several who contacted us through Nissoka or Lalitavajra's Dharma classes there. One of these is Shashi Kumar, recently returned to Bodh Gaya after six years in Nepal, where he studied traditional Thanka painting at the Shechen Monastery, Kathmandu. His father is a well-known carver of Buddhist rupas, with a small shop in the centre of town.
Shashi is planning to set up a Thanka painting studio and tuition centre in Bodh Gaya, and recently conducted a painting workshop on our land. Any visitors are invited to contact him and he is able to accept commissions. Check his
website
or
slideshow
for a taste of his work, or email him
here
.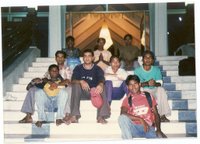 Also living in Bodh Gaya is Sachin Bhongade, a mitra from Nagpur in Central India – over 1,000 miles away, where the customs and even the language is different. He recently led the local mitras to the big TBMSG retreat centre at Bor Dharan, near Nagpur, for a retreat on the life of Dr. Ambedkar. On his return he sent FWBO News this report -
"I am in Buddhagaya and I was thinking to write you all about the retreat. I took seven youths from Buddhagaya to Bordharan for the retreat. They all are very good friends of mine, and four are from the Siddharth Nagar area – a very poor part of town where the local Buddhists live. I would like to appreciate Dhammachari Ratnaketu who sponsored for the retreat for them all.
"The subject of the retreat was Dr Babasaheb Ambedkar's great qualities. It was a great time for my friend – the first time ever they experienced a different life to their usual life in Bihar. It was so inspiring for them and enjoyable for us all.
"In the beginning the retreat started in Marathi language (the local language of Maharastra) and that was a big problem for my friends from Bihar so the leader of the retreat decided to arrange a separate class for them. That class was led by Dhammachari Ansulkumar and me. After this was arranged, they mixed very inspiringly and enjoyably in the retreat.
"Then everybody came back to Buddhagaya. In the beginning it was really great for all they were all finding they were different in themselves. And now some of us are getting together everyday in the evening under the Bodhi Tree in Mahabodhi Temple - we do Pali puja and meditation, and every Sunday we have long time class and some interesting discussions about basic Buddhism."
Editor's note - It is sad to note that since this retreat, Ansulkumar died unexpectedly in a bad motorcycle accident, and Ratnaketu struck down by a stroke – he is now recovering in New Zealand.
Sabbe Sankhara Dukkha…