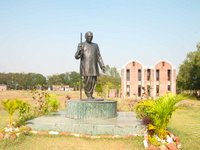 The Nagarjuna Training Institute in India is the FWBO/TBMSG's largest centre there. It runs ongoing year-long residential courses in Buddhism and social work, training up to sixty young men and women per year, from all over India. At the end of the years training they graduates may either stay on for a second year or return home. Many have done so, and in this way a widespread network of
local groups across India
affiliated to the TBMSG have sprung up all over India. Once home, the Nagarjuna graduates do what they can to spread the Dhamma given their need to earn money, help their family, and meet the many other demands of Indian life.
In April this year the FWBO Growth Fund gave money to support for a year twelve Nagarjuna graduates in five widely-separated Indian States – Orissa, Kerala, Tamil Nadu, Karnataka, and Rajasthan. The application was for funds to support twice as many, but as the FWBO Growth Fund is small and already over-subscribed six times over it was unable to assist!
Vivekaratna, Director of Nagarjuna, has recently sent us this report. Many other Dhamma projects are also going on across India, not least the recently-concluded and very successful Dhammakranti retreat at Bodh Gaya, which had 1,500 people attending - we hope to bring reports of these soon.
Orissa
Jadumani conducted two seminars in Sumbalpur for college students on the Psychological Effects of Caste and Jaldhar & Panchanand supported him. Around 60 senior college students participated in both seminars. There is good team work among these three ex-trainees. They inspired people to participate in the recent Dhammakranti retreat at Bodhagaya – where five persons became Dhammamitras through their work.
Kerala
Subhash, who was training till August 07, has now joined Binojbabu who had already started Dhamma work in Kollam district in Kerala. They have established a Dhamma centre in Mynagapally in Kolam distt – financed entirely by donations from local people. They are meeting individually and collectively with Ambedkarite activists from Kollam, Kottayam & Alapuzha (Alleppy) districts and conducting day retreats at the center and elsewhere. They organized a programme for Nagashuri & Saddhajyoti who visited last month – see report on FWBO News (forthcoming).
Tamilnadu
Subhash, Manimaran, and Ganesh organised a three days residential retreat at Villupuram in Central Tamilnadu. Vivekaratna led the retreat, which was on the Three Jewels, and 25 persons participated. They were very pleased because they managed to raise money locally to meet all the food expenditure of the retreat – and obtained the acconodation free of cost from a local charity. This is TBMSG's first residential retreat in Tamilnadu. There is good teamwork between Subhash, Manimaran & Ganesh.
Karnataka
In September Satyam single-handedly organised a retreat in Gulbarga. 23 persons participated in the retreat, and Padmavir & Dhammadarshi led it. Once again, Satyam raised donations locally to meet the retreat expenditures. He is conducting regular dhamma activities, mostly working in Bijapur, Bider and Gulberga districts, as well as keeping regular contact with ex-trainees from Karnataka and encourging them to help in spreading the Dhamma.
Rajasthan
Rambabu is working among the Meena community which is a tribal community. He is especially active in Bharatpur, Dhaulpur, Sawai Madhopur, and Alwar Districts. In addition he has regular interaction with Ambedkarite activists and gives lectures, leads Puja, and clarifies the doubts of the persons he meets. He is specifically emphasizing social transformation through Dr. Ambedkar's thought – using Ambedkar's emphasis on Liberty, Equality and Fraternity as Buddhist values for the transformation of society.
This is only a tiny glimpse of the many Dhamma and social projects the FWBO/TBMSG runs in India.
Labels: Dhammakranti, Dharmaduta, India, Kerala, Nagpur