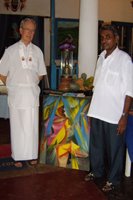 A few days ago we posted what will hopefully be the first of several stories from Dhammaloka's tour of Malaysia and China. We are hoping to do the same for Ashvajit, an Order Member of many years standing, who is spending the next several months visiting many FWBO/TBMSG groups in Sri Lanka and India.
He has just arrived in Sri Lanka where he sent us this short report as a sort of prelude to his main travels.
"I have spent my first day in south Sri Lanka staying with my old friend Jinasena at Unawatuna Beach. He manages a very pleasant guest house called Zimmer Rest, and he set me to work yesterday opening an exhibition of Sri Lankan paintings by an artist going by the name of Lionel Weerasinghe and giving a short talk on Art.
I have also taught one Manchester tourist to meditate - he was very receptive and easily got absorbed - said he felt stoned. I said I couldn't remember what that was like!
More to come…"
Labels: Dharmaduta, Sri Lanka