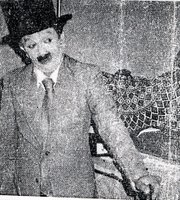 Varaprabha is an Indian Order Member who has recently begun a new career as a mime artist. It looks like he specialises in Charlie Chaplin impressions – and it looks like he's very good at it! He writes –
"I am glad to inform you that since last twenty-four years I am performing cultural activities as a cultural activist. Recently I completed Mime Arts course at Dr. Babasaheb Ambedkar University, Aurangabad. I am thinking to make short Mime films, through which such messages will be delivered as, "be educated, be kind, be harmonious, be generous…" and so on.
"Already I have been able to offer a Charlie Chaplin Mime on the theme of addiction for the children at the Mahavihara and also the Destitute Children's Home in Pune, another, called 'Charlie and the Thief' at Latur, teaching the children the importance of earning their living by honest means, and finally an active part in the Film 'Bodhisattva', which among other things was advertising for TBMSG. Another Charlie Chaplin piece is in preparation, on the theme of 'Charlie and the Dictator'."
Watch this space!