Breathing Space - the LBC's Compassion in Action project - wins major grant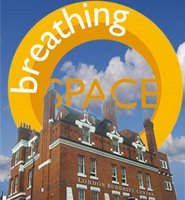 The London Buddhist Centre (LBC) has been awarded a £50,000 grant by the City Bridge Trust, which gives money from the City of London to charitable projects benefiting the inhabitants of Greater London.
This grant is for accessibility works in the basement, where the LBC will run its Breathing Space health and wellbeing programme. Specifically, this will include a lift going from the ground floor and a disabled toilet in the basement. This is – as far as the LBC is aware – the biggest single grant it has ever received. The work will create a beautiful new venue for courses that help people who've struggled with depression, addiction, stress and chronic pain to look after their own mental health. This will also give them the opportunity of making the LBC much more flexible – so they can attract a more diverse range of people.
Maitreyabandhu, Breathing Space Project Director, said: "It's a fantastic endorsement from a very well respected grant-making body for what we are trying to achieve with our Breathing Space programme – helping prevent people from relapsing into depression and addiction, and reaching out to more people in East London."
The creation of the new Breathing Space in the basement of the LBC is just one part of the programme of building works taking place next year, ahead of the LBC's 30th anniversary.
The LBC team is currently having intensive fortnightly progress meetings with its architect and team of building experts. It is also carrying out extensive health and safety planning. The target for the building work to start is Spring 2008, with completion by the end of that year.
The LBC will be holding a Mandala Evening on Thursday 6 December at 7.15pm, which will be a chance for people to see all the finalised plans – including drawings and computer generated photos – for the building programme.
Labels: Breathworks, funding, LBC