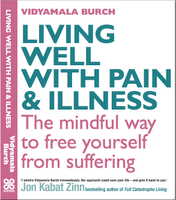 'Living well with pain and illness' was first published last year by Vidyamala, founder of
Breathworks
- one of the FWBO's most successful Right Livelihood businesses.
We've recently heard her book is now being translated and published in 6 countries and/or languages: German, the USA, Holland, Russia, Denmark, and Maharastra (where it will be translated into Marathi). Others are in the pipeline.
Meanwhile the Dutch version of the Breathworks website has just gone live at
www.breathworks.nl
- joining the Spanish version,
Respiravida
, launched last year.
Breathworks courses are now run to help people deal with any sort of stress or difficulty as well as physical pain.
At present Sona and Vidyamala are in Sweden at the moment running their first Training Retreat, which is being held at
Dharmagiri
, the FWBO's Swedish retreat centre.
Labels: Breathworks, Right Livelihood, Sweden