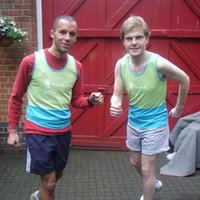 In just two week's time, Tim Segaller and Simon Okotie from the London Buddhist Centre will be running the London Marathon to raise funds for the LBC's
Breathing Space project
and for the mental health charity
Mind
.
"I decided a couple of years ago while I was on solitary retreat that I wanted to run a marathon before I was 40." Simon (who is treasurer of the LBC) said. "I didn't realise quite what a commitment it is!" This year is the ideal opportunity with all the fundraising going on at the LBC. "As well as creating Breathing Space – a health and well-being centre in the basement of the LBC – the building project will make the centre accessible for people in wheelchairs, provide an expanded reception room / bookshop and kitchenettes, make the community on the top three floors of the building habitable again, provide central heating to both communities above the Centre for the first time, provide a new office for the LBC team…the list goes on." In short, it will transform the LBC, hopefully in time for its 30th anniversary at the end of 2008.
"I feel particularly inspired by the Breathing Space project," says Tim. "This project is already making a real difference to people's lives, whether they are carers in the local area of East London, which is one of the poorest in the country, people who have suffered from depression or those coping with chronic pain. The new space will allow us to do so much more."
Please support Tim and Simon
You can sponsor them securely and speedily on-line at
www.justgiving.com/simonandtim
. There will be a prize draw for all sponsors and you could win tickets to a premiere at the Royal Opera House, tickets to the forthcoming Hadrian exhibition at the British Museum (kindly donated by Padmadhara), an organic food hamper and other prizes! Please also cheer them along on the day, 13 April, if you can. Check out Simon's marathon blog
www.writerunner.wordpress.com
in the coming weeks for fundraising and training updates and for news about the race.
Labels: Carers retreats, Fundraising, Health, LBC