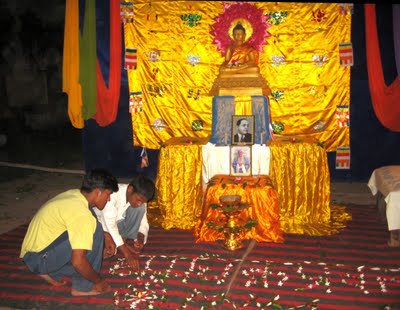 Here's a follow-up to yesterday's brief report on the recent NNBY Youth retreat at Bodh Gaya.
Aruna Kornana from NNBY reports -
The National Network of Buddhist Youth (NNBY) organized their first regional gathering at Bodhgaya, in Bihar.
It was a great challenge - the first time for this event with an entirely new group of people, working in a new place - but so successful.
Before the retreat the team went from one village to another, house to house, with the aim of educating the local people in the benefits of attending. Some places they could only reach on foot (almost 8-10 KM) and some on tractor.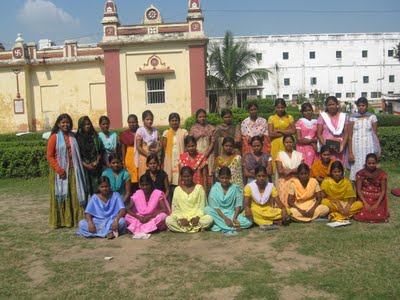 The greatest challenge we expected was to get the Bihari girls out to come on this retreat as many had never before been away from their family. The local people proved our misconceptions wrong by sending their daughters to the retreat. In fact our efforts resulted in 35 enrollments, which is a big achievement as the tradition doesn't allow girls to come out and participate in any such activities. This clearly shows how enthusiastic the people of Bihar are.
Dhammachari Subhuti led the retreat educating all present in the importance of Babasaheb Ambedkar 's great Mantra "EDUCATE, AGITATE AND ORGANIZE", dealing each of them separately. He mainly focused on how great a difference it makes when we form a proper Sangha: how much more we can contribute to each others' growth, leading to development of ourselves and the society.
Dhammachari Maitriveer Nagarjuna from U.P. (Uttar Pradesh) led the team with morning Meditation and a talk followed by Group Discussion. We had Personality Development sessions in the afternoon - NVC (Non Violence Communication), English, information about RTI (Right to Information), Career Counseling, Play for Peace, and NLP (Neuro-Linguistic Programming), all led by different organizers. At night before we dispersed to bed we had daily Vandana (Puja). We also had a temple visit where we were guided around the sites where the Buddha spent 7 weeks after attaining enlightenment.
One could clearly see what difference the retreat had made on the young citizens. We encouraged them to put forward their concerns which brought into focus the lack of proper resources in the villages and the many obstacles they face in their way to growth.
Greatest of all was the need for girl's education. The girls present were so happy that they could make it to the retreat. Most of them went back with a positive energy to do something for the other village girls, to motivate them, educate them and take this further. By the end of the retreat we had NNBY task groups (Sangha) one each for different regions. Dhammachari Subhuti in the concluding session said "Before I came to India I told my people in England that there wouldn't be any girls on the retreat. But I can see that you had made a big difference, a great contribution."
So a big applause to the whole team of organizers: Sailesh, Sachin, Sujivak (Govind), Suchit, Sujit, Seema, Sandhya, Preeti, Keerti, Aruna, Praneet and Ratnesh.
The whole team contributed in fulfilling the purpose of the Retreat: bringing awareness to the Youth, spreading the message of Buddha and Babasaheb Dr. Ambedkar, also personality development, career counseling, guidance, and play!
With Lots of Metta,
Aruna Kornana
If you'd like to contribute to NNBY's work in India please visit their fundraising website
www.justgiving.com/indianbuddhistyouth
(In the US, we recommend
www.jaibhiminternational.org
)