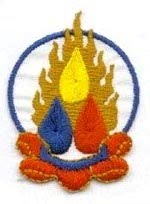 The following men had their Public Ordination into the Western Buddhist Order at
Padmaloka
, the FWBO's Retreat Centre for men in Norfolk UK, on Thursday, 17th September:
Maurice Wright becomes DANASHURA (long first A). His name means 'Hero of Generosity' (Private Preceptor Ashvajit);
Maurice Carey becomes SAGARADANA, meaning 'He having / manifesting ocean-like generosity' (Private Preceptor Pramudita);
Frank Balfe becomes VIDYAKARA (long first A) - 'He who is an accumulation of Wisdom, or he who accumulates Wisdom' (Private Preceptor Saddhaloka);
Wayne Sampson becomes ACALARAJA - 'The Immovable King' (Private Preceptor Padmavajra).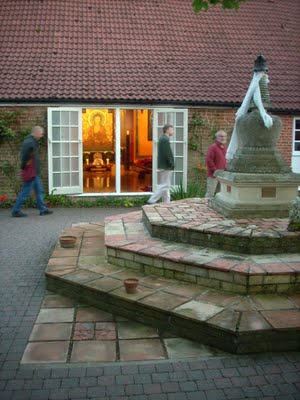 The Public Preceptor for all four was Satyaraja.
They bring the size of the Order to a total of 1635 men and women. Sadhu!
Padmaloka was the FWBO's first permanent retreat centre, having been established in 1976 by Sangharakshita, the founder of the Friends of the Western Buddhist Order.
Set in the quiet village of Surlingham, on the edge of the Norfolk Broads, Padmaloka (originally known as Lesingham House) is an old country house surrounded by farmland. As well as its own five acres of delightful gardens, there are nature reserves and bird sanctuaries nearby. There is also a well stocked Dharma library and bookshop, a spacious shrine room for meditation which features paintings by local artist Aloka, and a yoga studio and equipment. Many years have passed, and a considerable wealth of experience in running retreats has been built up.
Labels: Ordination, Padmaloka