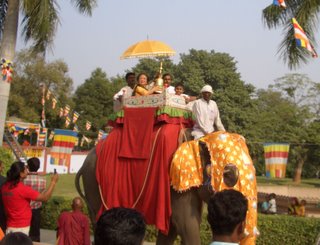 Manidhamma, an Indian Order Member writes –
"The FWBO's Dhammaloka International Buddhist Study Centre in Sarnath, India, has been busy of late. First came 'Sangha Day', on the 'Kartika' full-moon day of 13th of November. This was celebrated by Buddhists all over Sarnath in a spectacular, devotional and grand 3-day festival.
"The highlight was the display of sacred Buddha relics, for which there was an all-night special puja and recitation of Buddhist texts. The whole village of Sarnath was decorated by thousands of lamps, flowers, incense and Buddhist prayer flags. There were several devotional and cultural programmes taking place in numerous Buddhist monasteries near the Deer Park.
"The most magnificent event was a procession carrying the sacred relics of the Buddha on 4 decorated elephants by chief guests Madam Nancy Lim from Singapore and Madam Ratsyog of France, which paraded through the main roads of Sarnath. They were followed by Venerable Sumedha Thero, the Bhikkhu-in-charge of the Mahabodhi Society Sarnath, monks, nuns, Dharmacharis, Mitras and thousands of Buddhists from many nationalities.
"As part of the celebrations, I and others organised a special puja for Mitras on our land at Sarnath. Dharmachari Bodhisagar led a special puja and I gave a talk about the importance of commitment in spiritual life.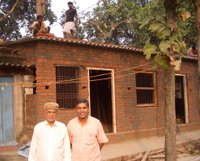 "The event took place in the newly-built shrine room which you can see under construction in the photo opposite. The shrine room was built by Bodhisagar and myself with the help of the local Sangha. The building work is ongoing – so far the total expenditure of construction has reached up to INR 75,000/- (approx UK 1,000 pounds). Still some work is going on and for the remaining work we will require 40,000 rupees (UK 500 pounds) more for finishing. At present I am back in UK but Bodhisagar has written to me to say 'Please manage this from any source.'
"We have plans to install a Buddha statue on the land and develop washing facilities for visitors and the resident community. So, generous donations and financial contributions are most welcome. You can give online by visiting
www.justgiving.com/sarnath
."
"Yours in the Dhamma,
Manidhamma
If you would like more information about Dhammaloka publications and activities, please contact Manidhamma by emailing
manidhamma@hotmail.com
or by calling Bodhisagar in India on +919411109061.
Labels: festival, Fundraising, India, Sarnath