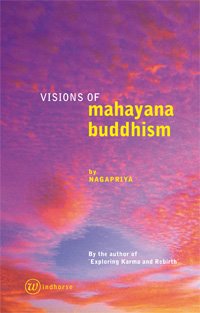 Sarah Ryan from the FWBO's
Windhorse Publications
writes with new of a new book, 'Visions of Mahayana Buddhism' -
"Mahayana means 'Great Way' or 'Great Vehicle' and refers to a powerful current of Buddhist thought, practice, and culture. Mahayana Buddhism spread across Asia, settling deeply in China, Korea, and Japan in particular. Its emphasis on wisdom and compassion continues to be deeply felt today.
"In a unique overview of this inspiring tradition, Nagapriya introduces its central themes and huge spectrum of practices, literature, and movements. Charting the evolution and expression of the Mahayana as a whole, he tracks its movement across South and East Asia, uncovering its history, culture, and doctrines. In doing so, he blends extensive knowledge with a strong element of lived practice.
"Ideal for both educational and personal use, this far-reaching and imaginative guide provides a solid foundation for any study in Buddhism and a valuable perspective on Asian history."
"I hope you're well and congratulations on the anniversary of FWBO News – long may it continue! Sarah
Nagapriya is already well-known as an author thanks to his critically-acclaimed 'Exploring Karma and Rebirth'. He lectures in Buddhist studies at Manchester University in the UK, specializing in Mahayana Buddhism.
Labels: Authors, publications, Windhorse Publications