Maitreyabandhu writes from the London Buddhist Centre, the FWBO's largest centre outside India -
"I'm delighted to announce the launch of my new book, Life with Full Attention - a practical course in mindfulness.
"My book is about paying attention.
"Mindfulness is something you can practise on a plane, waiting in a queue at the post office, or eating a takeaway. It's not religious. It's about paying attention.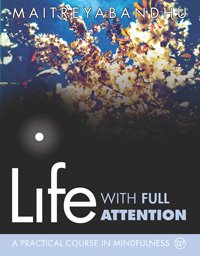 "I explore the different levels and dimensions of mindfulness. I address the issues a reader might face when they try to put mindfulness into practice. But don't worry: I'm not assuming you have plenty of free time. I assume you have work to do, people to see, things to accomplish, children to get to school. The art of mindfulness will be learning to bring more attention to the sort of things you already do. I'm not trying to add another task to your jobs list".
Launch dates
London Buddhist Centre, 7.15pm, 2nd September
Manchester Buddhist Centre, 7.15pm, 7th September
Birmingham Buddhist Centre, 7.15pm, 29th September
For more information, and to order, check Windhorse Publications on
www.windhorsepublications.com/CartV2/Details.asp?ProductID=733
.
Labels: Authors, books, Meditation