The FWBO Dublin Centre is delighted to announce that they have purchased a new premises for the Dublin Buddhist Centre. They told FWBO News -
"Our new address is The Dublin Buddhist Centre, 5 James Joyce Street, Dublin 1 - in the very heart of Dublin!
"Number 5 is a ground floor unit in a modern award-winning building currently comprised of apartments, offices, performance & exhibition space) and Dance Ireland. There will also be a crèche housed in the building. The building is located at Liberty Corner, a sure sign that our new home is in the right place.
"Since 1990, the
Dublin Buddhist Centre
(DBC) has been offering yoga, meditation and Buddhism classes to the public. Over that time we have also taught meditation in the private and public sectors, plus primary and secondary schools and regular university classes. In recent years we have started to reach out to more vulnerable populations, teaching mindfulness-based stress reduction techniques to individuals through our '
Blue Sky
' programme, working with Multiple Sclerosis Ireland and with 'Fresh Start', a government scheme designed to facilitate re-entry into the workforce by people recovering from depression.
"Besides our work, over the last seventeen years, a thriving Buddhist community has grown up around the centre – there are now have 17 Order Members in Ireland, 16 of which are living in Dublin.
"To secure the existing work and to expand the future work of the DBC, we decided to purchase our own premises – we've been renting facilities ever since 1990. We will also be accessible to more people than ever before because the new premises is located very centrally on the north side of the city centre. It is an area that historically has been severely disadvantaged but which has been regenerated substantially over the last five years.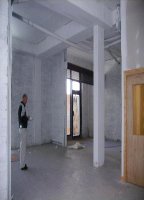 "The new premises is currently a concrete shell which needs complete refurbishment. Could you help us develop it into a peaceful and beautiful urban space to be enjoyed by everyone attending the centre?
"Please click
here
for more information and ways in which you can help. They have an
appeal blog
with details of upcoming fundraising events - or just
donate right now
!"
Labels: Dublin, Fundraising, Ireland