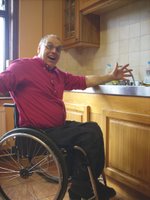 Amoghavajra, chairman of the FWBO's
Ipswich centre
, has another string to his bow – he's a keen
Wheelchair Basketball
player – and is currently in Beijing grading the competitors in the Paralympics, currently taking place there. He writes –
"Last night we had the opening ceremony in the Birds Nest Stadium, which is a fairly impressive building. I believe around 90,000 were in the crowd. The evening light fades very quickly here so by the time we approached the stadium it was dark and the lights illuminating it were fairly awesome lit up in different colours.
"The ceremony was also marked by a young Asian woman who we think was protesting, running onto the track during the athletes' entry and making a run for television coverage. She was brought to the ground after about 100 metres and after they subdued her she was led away by security. A sobering reminder that many people feel so strongly about human rights issues in China they are willing to risk their lives by protesting. Many of the athletes here are disabled as a result of the many war zones on our planet - to see this protest whilst also witnessing how many people have overcome war injuries was very poignant indeed. However I suspect most people will instead remember the rather sweet operatic music of the evening – not entirely to my taste!
"The other day I managed to have most of the day off from classifying duties and met Yinhua, a Chinese mitra at Beijing's famous
Lama Temple
. Like many of the tourist sites it was free to enter with Paralympic accreditation. It was a real transformation from the sporting, competitive atmosphere of the Paralympics to the atmosphere of the temple. There were many stalls selling all kinds of incense to offer - packets, boxes, bundles, gold-covered, short, medium and huge two-foot-long sticks! I was amused to be downwind of one old woman who was offering her cellophane wrapped incense without removing the wrapping!
"As I wandered round the different halls I was very moved, and felt as if I was very much at home in this environment –the images and symbols had a real, felt meaning for me. Most of the images were of Amitabha, or Amitayus in the large halls. They were larger than life-size and conveyed a lovely quality. In a side hall, among other more esoteric images I found a large thanka of Kurukulle - the lotus-family dakini. I was fascinated by this naked female figure who has a lovely smile and attractive appearance – as well as a garland of male skulls and trampling on another prostrate male figure! Another hall had a huge figure of Tsongkhapa that rose up to the upper tiers. Very gracefully and quietly authoritative. I sat for a while in each hall just to feel the atmosphere - it felt alive and charged. I could see many monks around and assume that there was still some practice going on there. I felt a little jaded within myself by having been in the sporting environment that lacks levels of awareness.
"Yinhua was very good company and knew of a vegetarian restaurant nearby. It was so good to be able to eat in a quiet environment. And to eat vegetarian food. Time passed quickly with him and in no time we were off to get me a taxi back to the village. The area seemed very Chinese and every few hundred yards there were elderly gents and ladies, part of the community security force. All very keen to help us find a taxi. Through narrow entrances we glimpsed the famous 'hutong' home areas - warrens of tiny dwellings, similar in some ways to the rougher old Glasgow tenement areas, but smaller and more cramped. We found a taxi and I was on my way back to modernity and the Paralympics..."
Meanwhile, Team GB looks to be doing very well -
Sky Sports
reports they have won an historic century of medals, and the handover ceremony to the UK for Paralympics 2012 is just taking place.
Labels: China