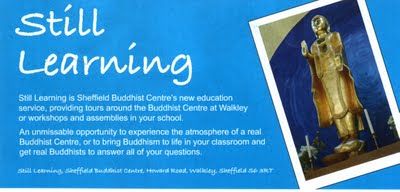 The FWBO's Sheffield Buddhist Centre have recently launched a new Right Livelihood business - their 'Still Learning' education service for schools. You'll find it at
www.fwbosheffield.org/schools.html
.
The project is the brainchild of two Sheffield mitras, Allan Kirkman and Kate Arrowsmith, who've teamed up to create a complete spectrum of activities, tours and workshops for schools. Among their repertoire are introductions to -
• Stilling Exercises
• Artefacts and Shrines
• Story-telling
• Questions and Answer sessions
• Drama/role-play
• Information about Buddhism
• The Buddha's life story
• Buddhist Ethics and Beliefs
• Buddhist Doctrine and Teachings
• Buddhist Statues and Images
• Talks about Buddhist Festivals
- everything a school teacher might want to pass on to their pupils about Buddhism!
In preparing themselves for this venture, they've drawn heavily on the FWBO's ClearVision project's experience in this field - they have a huge on-line resource library at
www.clear-vision.org/Students
- including the new on-line interactive 'Life of the Buddha' - check their demo at
www.cvinteractive.org/lob
.
Labels: Clear Vision, Education, Schools, Sheffield