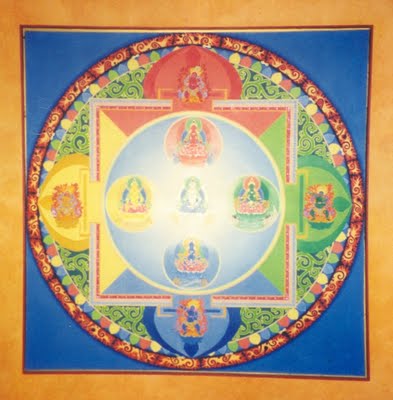 Maitrivajri writes with news of a cycle of celebration at the FWBO's
London Buddhist Centre
: an honouring of the little-known Five Prajnas, the 'female' counterparts of the Five Buddhas in the well-known Five-Buddha Mandala.
She says - "This year we are ritually celebrating the female Buddhas, or Prajnas, on the day and time of the year associated with each of them. We began the cycle with the Summer Solstice and female Buddha Mamaki. We are performing outdoor rituals.
"The rituals are open to those who know both our meditation practices and have some experience of Buddhist ritual. It would be great if the Prajnas received more attention! The Mandala of the Five Prajnas is a symbol and image for the wisdom of the Buddhas."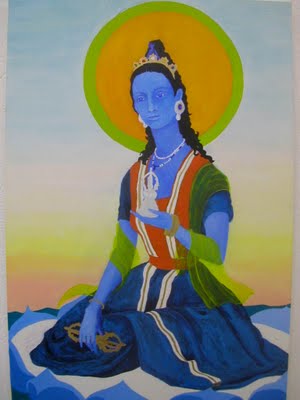 Next up, on September 20th, the Autumn Equinox, is a ceremony dedicated to Pandaravasini, the female Buddha of the Western direction associated with dusk and the wisdom of uniqueness.
Later in the year it is the turn of Samayatara, the female Buddha of the Northern direction associated with midnight and the wisdom of action (to be held over the weekend of Halloween/Samhain); and Akasadhatesvari, the female Buddha at the centre of the Mandala beyond time and space. She is associated with the ineffable wisdom of the Transcendental. Her ceremony will take place at the time of the Winter Solstice, Sunday Dec 21st.
For more details check the
London Buddhist Centre
website.
Labels: Arts, Celebrations, LBC, women