Here's a couple of updates from two of the FWBO's newer groups. Proving, perhaps, that small is often beautiful!
Danapriya writes from Kent, UK -
"Dear Lokabandhu,
"Here's a little something for the FWBO News.
"The East Kent Sangha based in Deal, Kent have just had their first Sangha Retreat called 'Loving Life' at Vajrasana Retreat Centre.
There were 25 of us on the retreat and we had a fantastic time and it has really had a positive effect on bringing the Sangha together even more. You will get a feel for the retreat from the photo. We had a fabulous team Siddhishvari, Sraddhagita, Suryaketu, Phil Daly and myself (Danapriya). Love from Danapriya."
You'll find them at
http://danapriya.org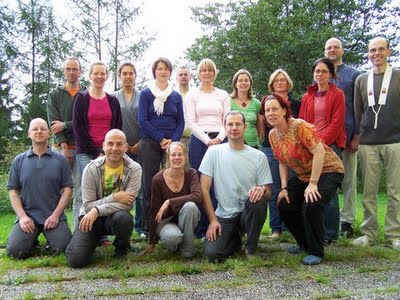 And from Düsseldorf in Germany, Sraddhabandhu writes -
"In the last two months the development of "
FWBO Düsseldorf
" has made further steps. On the first weekend of August we booked the Retreat centre "Vimaladhatu" and had our first retreat especially for the Düsseldorf Sangha. 12 people attended, plus 4 people in the team. For some people it was their first retreat ever, but everything went smooth. All enjoyed themselves, felt inspired and are eager to go on the next retreat. We haven't booked jet, but perhaps it will be a "less-than-typical retreat" insofar that we sail on the Dutch Ijsselmeer and meditate on the ship.
"A month later we went for a walking tour just in the vicinity of Düsseldorf. Extraordinary about this is, that this time it was not organized by a member of the team. Tanja planned and led the hike, and it was an enjoyable afternoon. I look forward for more initiatives from the Sangha.
"Yours in the Dharma, Sraddhabandhu"
Labels: Dusseldorf, Germany, Kent, retreat