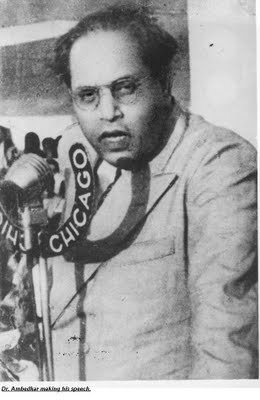 Following yesterday's post announcing the run-up to the anniversary of Ambedkar's conversion to Buddhism on October 14th, news is in of an 'Ambedkar Month' in San Francisco, organised by Jai Bhim International and the FWBO's San Francisco Buddhist Centre.
Ann Dennehy of Jai Bhim says -
"on October 14th at the sfbc sangha night we'll be celebrating with our buddhist friends around the world the 'diksha bhumi' or great mass conversion of 1956, when dr. ambedkar and 500,000 of his followers converted to buddhism, in nagpur, india.
"The theme will be 'the great mass conversion: spark for a buddhist revival in india'. I'll introduce some background on this event, and there will be a video feed of dhammachari maitriveer nagarjuna, an order member and scholar in india, who will explain the history and significance of october 14th in our global buddhist movement. maitriveer will be speaking from nagpur in central india, where dr. ambedkar converted to buddhism over 50 years ago.
"More details of our other events at
www.jaibhiminternational.org/ambedkarmonth2009
- or
find us on Facebook
".
For those wanting to know more, FreeBuddhistAudio hosts some great
talks on the significance of Ambedkar and his conversion
- or check '
Ambedkar and Buddhism
', available from Windhorse Publications.
Labels: Delhi, San Francisco