The FWBO's
Worcester Centre
- formally known as the 'Worcester Buddhism and Meditation Group' - has celebrated the new year in style by establishing themselves in their first full-time centre premises. They've been able to rent a house on the outskirts of town that will serve as the focal point for their substantial sangha, and double up as a small community for some of those most involved.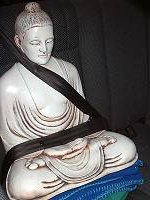 First established by Vajragupta, Vipulakirti, and others in 2003, it's one of a number of 'satellite' groups started over the past few years by the large Birmingham Buddhist Centre- and the first to find its own full-time premises.
So, for them at least, no more Buddhas travelling to the weekly class strapped to the back seat of the car!
FWBO News wishes them well in their new home – you'll find more photos of this on
Facebook
.
The
Birmingham Buddhist Centre
also runs classes in
Sutton Coldfield
and
Shrewsbury
, and has just begun a class in Warwick.
Labels: Birmingham, Groups, UK