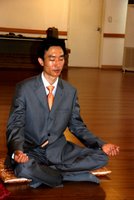 Further to Wednesday's news of Lokamitra's award of the Manhae Grand Prize for Peace in South Korea, Mangesh Dahiwale reports that on 15th August 2008, later in Lokamitra's visit, he was able to conduct the first FWBO Mitra Ceremony in Korea.
Song Jin (shown opposite), who has long-standing connections with FWBO/TBMSG centres and individuals in Australia and India, made the three traditional offerings of a flower, candle, and incense to become a Dhammamitra or Friend of the Dhamma. The ceremony concluded with a small Pali Puja and Blessing Gatha.
The ceremony was held in the Buddha Hall of Buddhist Solidarity for Reforms (BSR) in Seoul, and was preceded by a Dhamma talk from Lokamitra explaining the importance of "Going For Refuge" in life and commitment to the Three Jewels of Buddhism. He also explained the practice of Metta Bhavana followed by actual meditation.
During this visit, Lokamitra also led a seminar on "Engaged Buddhism in the world: past, present and future".
Labels: Korea