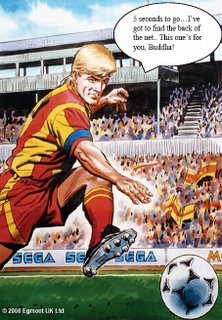 The FWBO's
Dublin Buddhist Centre
have produced a special version of their Newsletter, celebrating their team's recent victory on the football field. FWBO News has obtained a sneak preview and is happy to leak it here. They say -
"It was third time lucky for the boys in green who ran out winners in the FWBO's annual football World Cup, organized by Jayaraja.
"The Irish Team comprised Osadha, Vajrashura, Ahimsaka, the cultured left foot of Frank Balfe, John Greaney and Javier (a late call-up who apparently qualified for the Republic after correctly locating Ireland on a map!) In the closest-fought competition of recent years, the Irish faced tough games against London and Cambridge before the final showdown with Brighton – at which point the winners would lift the trophy, a draw would hand victory to Buddhafield.
"With 30 seconds remaining and the game still scoreless, Osadha broke free with a man to beat and buried the ball in the bottom left-hand corner securing a win for Ireland".
Click here to read on
…
Who said you couldn't have fun AND lead a spiritual life?!
Labels: Celebrations, Dublin