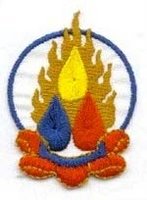 During a public ordination ceremony held on January 31st at the Stockholm Buddhist Centre, Sweden, Sanna Frost became Nagajyotis (Sanskrit, long first 'a'). Her name means'light, splendour, radiance of the nagas (literally serpent-demons)'. Ratnadharini was private and public preceptor. Nagajyotis ordination was especially significant as it was (we believe) the first ordination to be held in Sweden.
Sadhu!
On January 17th at 1.50pm, ex-Order member Gunavati died peacefully at Homerton Hospital in London. Padmaketu and Barbara, a fellow nun of her present order, were with her. Gunavati was 80 years old and had been in hospital for 4 1/2 weeks. She must have been one of the most visited patients there ever. Friends from her FWBO days came, as well as from the Jamyang centre in South London, where she had practised in recent years, including her teacher Geshe La. The name she received in that ordination was Lobsang Choedron.
The person who took most care of her over these weeks was her old friend Ingrid Kerma who looked after her tirelessly, if needed spending nights there as well.
The nurses commented how much Gunavati/Choedron had given to people in the ward and the nurses over the time she was there. And while getting progressively weaker there were many times where she radiated love for us visitors and her fellow patients and the staff. She was extraordinary until the end, including having her humour and cheekiness - and never complaining despite the pain she was in at times.
Gunavati was ordained in 1976 and resigned from the Order in 2001.
FWBO News would like to thank Jayacitta for this report.
Labels: Obituaries, Ordination, Sweden