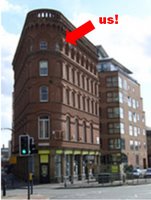 FWBO Leeds has written to say:
"We are thrilled to announce that Leeds Buddhist Centre has moved into new premises. The new centre is at
FWBO Leeds Buddhist Centre
4th Floor, Leeds Bridge House
Hunslet Road Leeds LS10 1JN

There has been an FWBO presence in Leeds for very many years but – until now – always in rented rooms. This move is therefore a major shift for them – they've gone from having just two evenings a week available for their activities to their own space '24/7'.
The building itself is a Leeds landmark, and very central: Leeds Bridge House was built about 1880 as a Temperance Hotel by John James Cousins, a Leeds banker. It's been used for many purposes over the years and only narrowly survived demolition in the 1960s. Today, its bold Flatiron New-York-inspired architecture is regarded as one of the landmarks of the city. It's been described as "a brick and terracotta dream ship sailing into a brave teetotal future for the working classes" – how interesting that it now houses a Buddhist Centre!
They have a delightful website at
www.leedsbuddhistcentre.org
, where you can find details of their various classes and courses, including their
University classes
- many FWBO centres used to run these, but the Leeds centres is one of only a few still doing so.