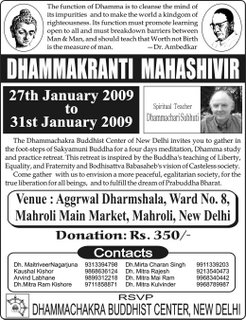 The Trailokya Bauddha Mahasangha, or TBMSG – as the FWBO is known in india – continues to expand the range and size of its activities. November through March are traditionally the season for 'outreach' and this year is no exception. In fact there are three large events coming up, in three corners of India -

North India
In North India we've heard from Maitriveer Nagarjun, a young Order Member studying for a higher degree at the prestigious JNU university, he says -

"Here I am sending you an image of the PAMPHLETS for another step ahead for the Dhammakranti (Dhamma Revolution) in NORTH INDIA. It's difficult to organise in a New Place like Delhi, but I am feeling satisfied to contribute one more step in Delhi and for the rest of the states in NORTH INDIA.

"Subhuti (from England) will the main teacher. This Four-Day residential retreat, with food organized by Jawaharlal Nehru University Students for Social Human Welfare, will welcome people from all different cultures, communities and backgrounds to listen and study why we need BUDDHISM in human life, especially with reference to the work of BODHISATTVA BABASAHEB Dr. B. R. AMBEDKAR. . Subhuti will lead the retreat with Dhammacharies at our Venue".
Bodh Gaya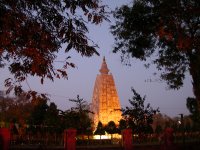 Next in this impressive calendar is a large 1000-person retreat to be held at Bodh Gaya, in North-Eastern India. They say –

"The 7th International Dhammakranti retreat will be held at Buddhagaya from 1st march evening to 6th march evening 2009.

"This will be the third and largest International Dhammakranti Retreat in Buddha Gaya organized by the Dhammakranti Social Institute, TBMSG, India. These retreats have already made a considerable impact throughout India, giving people from all castes and classes an opportunity to practice Dhamma together and form a Casteless Society in the true sense. In India this is truly a precious opportunity.

"The major attractions on the retreat are Meditation under the Bodhi Tree, Dhamma Talks, Buddhist Rituals, Group Discussions & Cultural Activities. All present will be making a contribution to reviving the Dhammachakra (Dhamma Revolution) in the World. Dhammachari Subhuti will lead the Retreat. The retreat will be held at the Nyingma Monastery in Buddha Gaya.

"For more details please contact us at tel 0091-9371181404. Thank you".

Tamil Nadu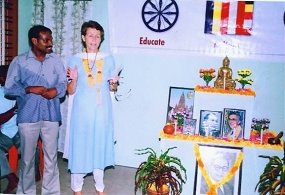 And 1,500 miles away, in a completely different landscape, language, climate and culture – but still in India – we've heard from a group of graduates from TBMSG's training program at Nagaloka. They say -

"Dear Dhamma Friends, Namo Buddha. Buddha.

"The Friends of Nagarjuna Training Institute (NTI) is organizing the first Mass Retreat in Tamil Nadu, India from 12th March evening to 15th March evening 2009. This retreat is organized to gather around 300 people from South India. It is a good opportunity to learn and practice the Dhamma with hundreds of followers of Buddha and Dr. B. R. Ambedkar. This is truly a precious opportunity in South India to bring people together irrespective of class, caste and religious background. These retreats may have a considerable impact on society and an opportunity to explore the importance of practicing Dhamma to establish a casteless society in the true sense.

"The major components of the retreat are Group Meditation, Dhamma Talks, Buddhist Formalities, Chanting Buddhist songs, Group Discussions and Buddhists Cultural Activities. Dhammachari Lokamitra, a Buddhist spiritual leader will lead the Retreat. The retreat will be held at Shanthi Nilayam, Vedamary Community College, Mambazhapattu Road, Perumpakkam, Villupuram Dist, PIN – 605 301. Tamil Nadu.

"Many people from very poor economic backgrounds are expected to participate in the retreat. A donations scheme is being set up to help many of them to attend this. Your donation will help the Revival of Buddha Dhamma movement in South India. Come and join this historic event to transform our society in to a New Society – based on Liberty, Equality and Fraternity, and fulfill the dream of Bodhisattva Dr. Babasaheb Ambedkar.

For more details please contact us: email: visuddhaloka@gmail.com mobile: + 91 9841 255 342 web: http://www.visuddhaloka.wordpress.com/
Labels: Delhi, Dhammakranti, Dharmaduta, India, Subhuti, Tamil Nadu