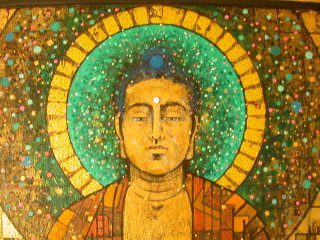 Coming up soon is the British Buddhist Landscape conference, already mentioned in FWBO News but now with more details confirmed – including a major exhibition of Western Buddhist artists.
Amitajyoti, who is organising the FWBO's submissions, reports "We have a really good range of some excellent work to show - do let people know. The artists involved are really 'giving it something'/'doing the business' so to speak! We'll have work by Aloka, Akasaka, Chintamani, Padmayogini and me."
Aloka and Chintamani have both been practicing as Buddhist artists for over 30 years, Chintamani is chair of FWBO Arts and probably best-known for his rupas which take centre-stage in both the London Buddhist Centre's shrine rooms. Aloka's large-scale paintings of the Buddhas and Bodhisattvas grace many FWBO centre shrines – Brighton, Bristol, Nottingham, Norwich, Padmaloka, as well as dozens of personal shrines...
A rich line-up of speakers includes Sangharakshita, Stephen Batchelor, Dr John Peacock, Dr Helen Waterhouse, Ajahn Laow, Rev. Prof. Sato, Peggy Morgan, Colin Ash, Ven Sumana, Tony Kemmer, Phil Henry, Keith Munnings, Sharon Smith (aka Vijayatara), Yann Lovelock, and Munisha. It's a unique opportunity to see and interact first-hand with major figures across the extraordinary diversity of British Buddhism.
Full details of the conference are available from the conference organisers, the UK's
Network of Buddhist Organisations
, this gives details of
booking
and each days programme; it's possible though of course not ideal to attend only some of the events.
The dates are Friday-Sunday, June 27-29th.
The event is being generously hosted by the 'Institute of Oriental Philosophy', a branch of
SGI-UK
, at their headquarters, the very beautiful stately home of
Taplow Court
, set in 85 acres of grounds and overlooking the River Thames, between Slough and Maidenhead.
Transport is easy via regular trains from Paddington or Reading. Book soon as places are limited!
Labels: Arts, Interbuddhist, Sangharakshita, Visiting Teachers