Sunday June 28th at 5pm Mexican time sees the opening of a new Buddhist Centre in Mexico City, with activities starting properly on 30/6.
Five Order Members (four women and a man) have teamed up to create the very beautiful '
Buda Mandala
' space in the central and beautiful Coyoacán district of the city.
Their website (
www.budamandala.com
) says -
" Buda Mandala is a group formed by members of the Western Buddhist Order. It is dedicated to the teaching of Buddhism and meditation in an appropriate way for our Mexican contemporary surroundings.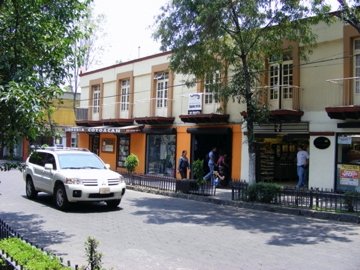 "Our vision is one of a world where human beings can peacefully coexist in a network of contribution and protection that reaches to all living beings and the Earth, a network in which each honors its limitless potential of wisdom and unconditional love.
"Our mission is to make of our vision a reality, transmitting the lessons and practices of the Buddha-Dharma in an appropriate way to our context in Mexico, Latin America and the world, honoring the lessons of the Buddha and the vision of the founder of our Order, Urgyen Sangharakshita".
(Many thanks to the Babelfish website for this translation: it's remarkably beautiful and eloquent, considering that it was done by computer!)
The address is Francisco Ortega 27, Altos (in center of Coyoacán), tel (04455) 2510-4153. The FWBO's main centre in Mexico City continues: full details at
http://www.budismo.org.mx/
.
SADHU!