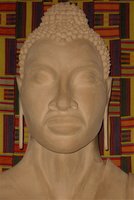 The FWBO and TBMSG have some 80 Buddhist centres world-wide, on four continents – but very little presence in Africa. However, a little-known fact is that for some three years now the FWBO has had a centre in Johannesburg - a large and peaceful house situated in the suburb of Emmarentia. It is called Shantikula, which translates as 'Peaceful Tribe', and is run by a small but dedicated team: Ratnajyoti, Vajradhara and Wayne.
They are celebrating the new year with the launch of a website, the first time they have had one – and even if you don't plan to be in Johannesburg any time soon you can now find out about their meditation and dharma classes, their courses for stress, anxiety and depression, their macrobiotic cooking, and even the organic vegetable garden! Find it at
http://www.fwbojohannesburg.co.za/
– and go visit if you're ever passing!
We're hoping more photos will appear on their site over time – among other things they have a very special Buddha rupa, carved specially for them following the traditional conventions of African carving – this makes it possibly unique in the Buddhist world.
Labels: africa, Johannesburg