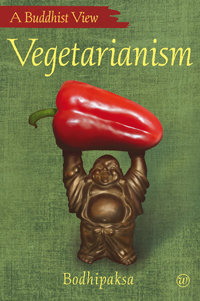 Sarah from
Windhorse Publications
, the FWBO's publishing house, writes with some news - and an invitation… She says -
"We're very excited... about our brand new series, 'A Buddhist View'!
"This series examines key issues in life from a Buddhist perspective, offering practical points on living in the 21st century. The first three books, by Akuppa, Bodhipaksa and Sarvananda, deal with our relationships with the environment, food and our perception of life respectively".
To celebrate, we'd like to invite you to our first day-long book-launch party - on-line! It's TOMORROW FRIDAY 13th.
Whether you're Buddhist or not, vegetarian or not, feel free to drop in on Bodhipaksa, who'll be online all day, on
Facebook
, Twitter (
@bodhipaksa
), and on his blog
www.bodhipaksa.com
, talking about the second edition of his book, which explains why he thinks Buddhists should be vegetarian.
"Come join the conversation! You can just drop by and say "hi" if that's all you have time for. Or read an article, enjoy the quotes he'll be posting, watch a video, or join a conversation…
"To get you started, check
Bodhipaksa's video invitation to the event
...
"Oh, and don't forget to buy the book(s)! Available from your Centre bookshop, our website
www.windhorsepublications.com
, or your local High Street.
Much metta,
Sarah
Windhorse Publications: Books on Buddhism, Dharma, meditation from an FWBO Right Livelihood business
Labels: Vegetarian, Windhorse Publications