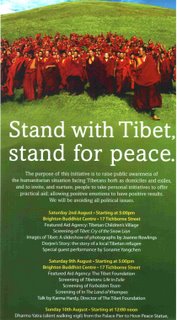 The FWBO's Brighton Buddhist Centre is playing a major role in Brighton's forthcoming Tibet 2008 Initiative, which will run throughout August starting next Saturday 2nd.
Pete Fountain, the inspiration behind the Tibet 2008 Initiative said, "I hope that these events will encourage people to offer whatever help they can to other human beings. They can do this in the full knowledge that they are directly making a beneficial difference to another person's life; potentially to the extent of actually saving it."
The programme aims to promote an understanding of the issues facing Tibetans, both in exile and in their homeland. It will also offer practical ways in which people can provide support for the Tibetan nationals.
First comes an evening where Tibetan refugees will share their experiences of life in Tibet through song and the spoken word – among those present will be Dorjee, a Tibetan refugee living in Brighton, who will be talking about his reasons for leaving his homeland, his 34-day journey walking over the snow covered Himalayas to India, and his life as a refugee living in Brighton. The Gangjong Doeghar performance group, many of whose performers come from the Karuna-funded Indo-Tibetan Buddhist Cultural Institute ITBCI, will also be performing.
Later in August there will be three Walking Vigils along the Brighton Seafront in Support of the Tibetan People – an opportunity to show solidarity with the Tibetan people's desire for greater freedom, to assemble together on behalf of those who cannot."
Of special interest to those in the FWBO might be the last event, an evening showcasing "One Lama's Mission to Preserve Tibetan Culture" – the lama in question of course being Sangharakshita's friend and teacher Dhardo Rimpoche.
Many other events are also planned – more details on the web at
http://www.brightonbuddhistcentre.co.uk/tibet.html
Labels: Brighton, engaged buddhism, Interbuddhist, Tibet