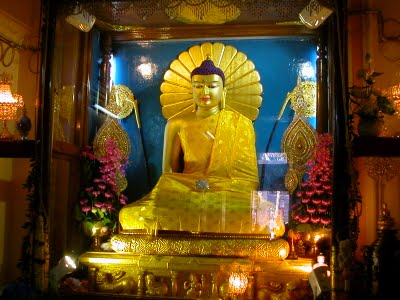 Rohan from India's '
Dhammakranti
' project sends us this report of their recent retreat at Bodh Gaya, place of the Buddha's Enlightenment and pivot of the Buddhist world.
'Dhammakranti' means 'Dhamma Revolution'; their vision is a revival of the Buddha's teaching across the length and breadth of India, and thus, the establishment of a truly caste-free society in India and an end to the appalling suffering this system still causes. He says-
"We have been organizing the Dhammakranti retreat for last seven years; this is the eight one in a series. Over last seven retreats nearly 8,500 people from 15 different states and from 20 different caste backgrounds have participated, we have tried to give to each an experience of a casteless society based on Liberty, Equality and Fraternity. This is one of our main aims.
"This was the fourth Dhammakranti retreat we have organized at the most holy and auspicious place Buddhagaya in Bihar, India. It took place 18 Oct to 23 Oct 2009.
Our aim
A. We wanted to set up a model for a casteless society. This would work as an inspiration for people in India who are working to annihilate the caste system as per the vision of Dr. Babasaheb Ambedkar.
B. We wanted to give an experience of a compassionate community of a wide variety of people coming from all many different parts of India and around the world.
C. We wanted to create an opportunity for people to interact with each other from different caste backgrounds and meet one another deeply enough to experience the unity and harmony between each other so that the habit of seeing people as higher or lower vanishes.
D. We decided to use Buddhist teachings as the major components of the retreat.
E. We wanted to revive a Buddhist culture in India
We brought together people from 7 different states in India - Maharashtra, Gujarat, Delhi, Andhra Pradesh, Orissa, Madhya Pradesh, Uttar Pradesh, Bihar, Punjab, and 4 Countries in the world - India, Britain, Thailand, New Zealand. This allowed us to have a real international flavor on the retreat.
We allowed 75 people to come free on the retreat, they were from various poor backgrounds specially from Bihar and Orissa. This helped them to build their confident and have the chance to interact with other Buddhists.
"All together 200 people participated in this retreat. Dhammachari Subhuti was the leader of the retreat.
Talks and events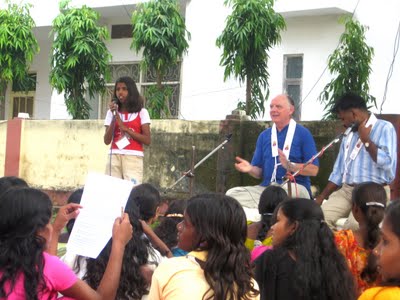 "We had an inauguration program on 18th evening where people from different countries and states introduced themselves in a group with their cultural background and won the hearts of many people.
"The main theme on the retreat was The Buddha Mind and the Five-Buddha mandala. Subhuti gave talks every morning. We explored the Buddhas by visiting the Maha Bodhi Temple everyday and reflecting on the five Buddhas, meditation, group discussion and communication exercises. Walking meditations also helped us to go deeper in to the theme.
"At the end of the retreat we had a mitra diksha (mitra ceremony) under the Bodhi tree. In this, seven brothers and sisters from four different states and two different nations expressed their strong commitment to the three jewels. As part of this, Dhammapali is the first Thai mitra we have in our movement.
Coming up - and our request to you
"Our next retreat we are going to have is in Bareilly, Uttar Pradesh, in December. We would like to get your generous help for this great cause.
"Please visit
www.justgiving.com/bodhgaya
or
www.dhammakranti.com
; your support will help us to do the Buddhist uplift in India.
"Namo Buddhay and Jai Bhim to all!"
Labels: Bodh Gaya, Dhammakranti, Dharmaduta, India, Subhuti