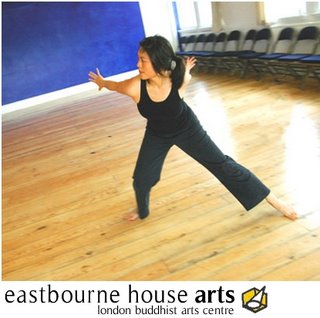 A few days ago FWBO News reported on the upcoming
'Buddhism and Creativity' conference
in which FWBO artists will be taking part.
Arts have always been an integral part of the FWBO, being highlighted by Sangharakshita as one of the six 'distinctive emphases' of the FWBO.  His talk exploring this is on
FreeBuddhistAudio
.
A recent survey conducted on the FWBO's European Chairs Assembly illustrated the variety of arts events being held across the movement.  We reproduce it here for readers' interest. 
Berlin Buddhist Centre choir
Two 2-day workshops including public talks, on 'Aesthetic appreciation and the spiritual life', including visits to art exhibitions
Major commissions of painting by Aloka, also sculpture
Poetry used in Dharma teaching
Buddhafield has a long tradition of musical accompaniments to mantras
Major commission of new FWBO Refuge Tree painting by Chintamani
Visits to CBSO concerts
Arts soirees
Five-day thanka painting workshop
Amsterdam Buddhist Centre Choir (meets fortnightly)
Plans for monthly film night
Two arts exhibitions by sangha members
Poetry and music evenings
Regular poetry group
Theatre group (including visits to local productions/concerts)
Music-making and mantra-developing workshops
Seeking funding for arts project (audio-visual equipment and picture-hanging system)
Purchase of painting by Aloka
Film nights showing 'Art-house' movies, including Indian movies
Creative writing events
Exhibitions of work by local artists and Buddhist artists
Sangha visits to local exhibitions, concerts, poetry – and publicity for local arts events at the Centre
Sangha writers group.
Sangha 'Cabaret' evenings with music, poetry, open mike
Idea for local film club
Idea for 'Arts Sangha' evenings
Major commission of painting by Aloka
Monthly 'Dharma Eye into the World' events – including singing/debate/film/astronomy
Occasional music events
Sangha creative writing group
Brighton Centre choir
Japanese monks visiting and chanting
Sangha Poetry group
Sangha Writers' group
Sangha Singing group
Sangha Music group
And finally – there's a variety of personal sites by FWBO artists, teachers, and performers –