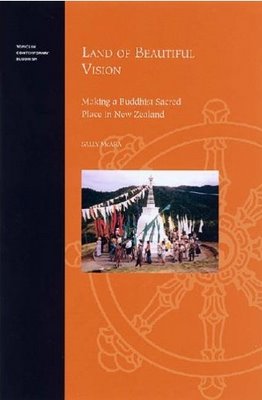 Sudarshanaloka
is the FWBO's retreat centre in New Zealand – a most beautiful spot, set in 200 acres of native bush looking down the valley and out over the sea. It appeared most recently on FWBO News in February, when it hosted the ordination of Dridhamati.
The story of Sudarshanaloka's creation is a rich and complex one – and is now the subject of a book-length study.
Land of Beautiful Vision: Making a Buddhist Sacred Space in New Zealand
, by Sally McAra. The book (available from Amazon or elsewhere) is an academic work, and not cheap – but you can read a review
here
, by Jayarava, who was himself involved in its creation and is a friend of the author.
And for those who'd like to visit, but don't plan on flying – you can take a 'virtual journey' from Thames, the local town, all the way up the valley to the retreat centre, and on up through the site to the Stupa itself – and then look out over the bay… Just click
here
to begin…
Labels: Authors, New Zealand, Sudarshanaloka