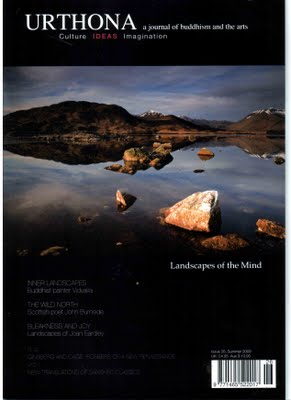 Urthona
is a privately-published FWBO magazine dedicated to the arts. The latest issue, Urthona 26, explores the theme of "LANDSCAPES OF THE MIND". Packed into its 64 pages are features on the work of three visionary artists deeply inspired by notions of landscape and mindscape, previews of complete chapters from two recently published novels, an essay on philosophy in the movies, and an interview with translators of the great Sanskrit poet Ashvaghosha - and plenty more besides!
In their own words, Urthona exists to "present the best of world culture, ancient and modern, from a Western Buddhist perspective. We explore particularly the work of artists and thinkers who are working to bring about cultural renewal by expressing the sacred dimension of the arts in ways which are relevant to the 21st century"". They go on to say -
"The magazine takes its name from Blake's spirit of the Imagination, Urthona, one of the four Zoas. In his temporal form of Los, Urthona is the archetypal blacksmith who labours at his forge to beat out forms which will awaken mankind from spiritual slumber and remind us that this world is 'all one continued vision of Fancy or Imagination.'
To give you a little more of a taste of what Urthona 26 contains, there's -
* Inner Landscapes, an interview with talented Buddhist painter Vidyalila
* Golden Sunflowers, an essay in which Vishvapani explores how Buddhist ideas have influenced Western culture over the last 200 years, from Wagner to John Cage
* Bleakness and Joy, a review of the unjustly neglected Scottish painter Joan Eardley
* And an exploration by Ratnagarbha, Urthona's editor, of John Burnside, the 'Poet of Absence and Presence', and often held to be the foremost nature poet at work in Scotland today.
More details, and ordering information, at
www.urthona.com
.