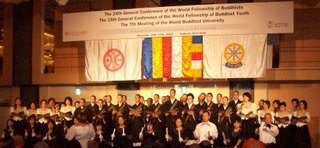 Five members of TBMSG, the FWBO's Indian wing, are just back (in India) from attending the annual World Fellowship of Buddhist Youth conference, which this year was held in Japan. This is a major step onto the international Buddhist stage for them, and Yashosagar, one of the delegates and chairman of TBMSG, has sent us this report –
"The 24th General Conference of the World Fellowship of Buddhists (
WFB
) and the 15th General Conference of the World Fellowship of Buddhist Youth (WFBY) was devoted to the subject of "The Buddhist Contribution to Resolving Social Problems"; it was held from 14th to 17th November 2008 at the Asakusa View hotel, in Asakusa Japan.
"370 people from all over the world attended the conference of WFB and WFBY (WFBY is the youth section of the WFB). Nearly twelve countries' regional centers were present.
"The WFBY's purpose is to promote and strengthen understanding and practice of the teaching of the Lord Buddha among youth and increase respect and piety towards the Triple Gem, our parents, elders and to each other. It aims to promote unite, solidarity and networking among young Buddhists around the world.
"TBMSG is one of the Regional Centres of WFB and WFBY in India, and Priyadarshi and I made a special presentation of our work and especially our youth work. We presented Dr. Ambedkar's contribution to Buddhism and also what we are doing in India, our activities in India, particularly the new situation which is arising in India for the growth of Buddhism. We were able to show the great influence of our work is having in India on people's minds. People felt very happy to see our slideshow, the living Buddhism in India.
After the presentation were Symposiums – Dhammamitra Mangesh Dahiwale was also invited to speak on 'Buddhism Past Present and Future', particularly on the youth's situation. One of the panelists from Japan expressed his concern over the isolation of youths in Japan from Buddhism. He expressed the need for youth's participation in Buddhism and the social action.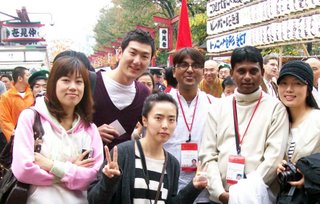 "Interaction with many people from the different parts of the world is the most important part of this conference in our view. To share with each other what we are doing and what we can do together. Actually it was a great occasion to meet many Buddhist people throughout the world - making contact with them gives you an idea of their situation and work they do.
"Later on a Prayer and Procession for world peace was arranged; all 370 of us silently walked to
Senso-ji Temple
where we held peace prayers and then a Traditional Tea Ceremony. All the people were served the green Japanese tea by the Japanese Sisters in their traditional dresses.
"The WFBY youth conference concluded by organizing a two year action plan. We in India are having a special youth program in January 2009 - Dr. Ong See Yew, the new Vice- President of WFBY, is coming with Young Buddhists from Malaysia to our centre in India (Bhaja, Pune) to do workshops on youth leadership. Most likely youths from other WFBY regional centres like Nepal, Sri-Lanka and Bangladesh will also take part in this program.
We are currently
fundraising for this
and other youth work in India, please do contribute if you wish to assist us.
"Now we are looking forward to our Youth leadership development program in January 2009. The connection we make during the conference help us to be in touch with each other and share what we do and cooperate with each other to help the youth from the world and youth from India.
"Yours in the Dhamma, Yashosagar
Labels: India, Interbuddhist, Japan, Youth