Windhorse Publications
, the FWBO's main publishing business, are proud to announce their new title 'Life with Full Attention: A Practical Course in Mindfulness'.
Sarah Ryan from Windhorse writes to say "Maitreyabandhu's new book has just come out and we're really proud of it! A lot of work went in from a lot of people but it's finally here. Can you please do a piece on it in the FWBO News next week?"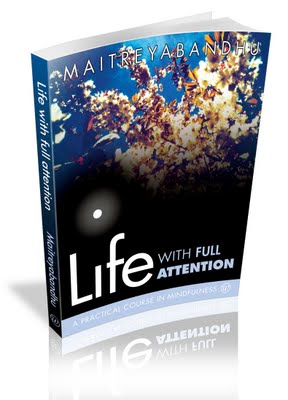 We're happy to oblige...
The book's blurb goes on to say -
Don't live on automatic pilot – live life with full attention.
In this eight-week course on mindfulness, Maitreyabandhu gently guides readers, teaching them how to pay closer attention to their experience. Each week, he introduces a different aspect of awareness – such as mindfulness of the body, feelings, thoughts and the environment – and recommends a number of easy practices; from trying out a simple meditation to reading a poem.
Featuring personal stories, examples and tempting suggestions, Maitreyabandhu shows how by applying mindfulness we can steal back the lost moments of life.
Sarah ends by saying -
"Here the yellow leaves are just starting to drift across the street and even on sunny days the wind has a tooth in it – autumn is such a beautiful season.
Best wishes,
Sarah

Coming soon is Bodhipaksa's well-known exploration of vegetarianism. Click the image to find out more!
Labels: books, Mindfulness, Windhorse Publications