Today we bring you part 1 of a selection of news from TBMSG in India, where there's been a lot going on!
Inauguration in Mumbai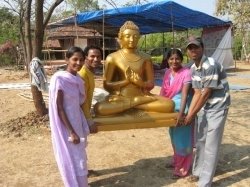 First is news of the inauguration of NNBY's Mumbai regional centre - NNBY standing for India's "National Network of Buddhist Youth". NNBY is one of the fastest-growing and dynamic wings of TBMSG in India - you'll find a detailed account of their structure, including their decentralised philosophy and Youth Parliaments on their website at
www.nnby.org/aboutus.php
.
The Mumbai regional centre was inaugurated in early May by Dr. A.H. Salunkhe; should you be in Mumbai you'll find it at Parmita 8th/B Lane, Tagore Nagar, Vikroli (East) Mumbai - you'll find it on the Google map at the bottom of this post.
"We shall bring back Buddhism in Northern India"
Closely following the inauguration in Mumbai was NNBY's "Youth Summer Camp", a thousand miles away at Dehradun, a hill station in one of the northern provinces of India. Thanks to Ratnesh for this report -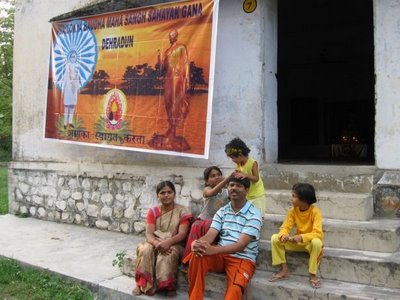 "In this camp a group of 21 youth mainly from Dehradun and its neighbouring cities participated. The aim of the event was to attune the younger generation with the Dhamma; the focus was on the needs of Indian youth. Accordingly in this retreat, we had workshops on Personality Development, Self Development and Leadership Skills - ;plus meditation and puja of course.
Interestingly this retreat was guided by two young Dhammamitras - Pranit and Ratnesh. Pranit taught basic meditation and Puja to the participants and gave talks on basics of Dhamma. He also narrated the life story of the Buddha and Dr. Ambedkar in an emotional and convincing way. His talks were followed by group discussions and Question Answer sessions.
While in the daily afternoon sessions Ratnesh explained Dr. Ambedkar's perspective on Buddhism such as 'No Belief in God and Soul' and also focused on the true meaning of |Personality by referring to Buddhist teachings on 'mind', 'anitya' and 'individual' as the basis of personality; he recounted incidents from the life of the Buddha and Dr. Ambedkar to present the success of the individual efforts in achieving one's goals. Besides dealing with Buddhist theories, he sung the verses of Kabir (the reformist leader of Medieval India) to develop more attention and clarity on the points.
Disha, one of the young girls present, was so impressed by this explanation that she confessed that earlier she had been considering Buddhism as a religion of the past but now she realized that Buddhism is all time relevant and very much useful in our day-to-day life. Anshu expressed her feelings by saying that 'this retreat has bought many changes in me, now I am more confident and developed deeper connection with Buddhism'.
Most of the participants who were first timers on any retreat admitted that before coming to this retreat they were not at all willing to participate in it but they were pushed by their Buddhist parents for participation! Happy to say that during this retreat they admitted that they realized the wonder of Buddhism and ended by saying they will never again miss such an opportunity. Kamal, Bittu and Siddharth, three participants from Delhi were so overjoyed they said they will try to bring more and more friends on future retreats and they wanted to be Dhamma activists.
On the last day the teachers and participants greeted each other and paid their special thanks to the senior order members Kumarjeev and Bodhisagar for their active support and help. Bodhisagar who was present in this occasion expressed his joys and satisfaction and promised to arrange such retreats in various parts of northern India. This session was lead by one of the participants Manisha, who confidently led the thanksgiving program.
The Retreat ended with a Hindi Buddhist song 'Aao Hum sab milkar Itihas Rachaenge' (Let's Come together to create a History). Participants with their full joy all together roared 'JAI BHEEM' and pledged their desire to bring Buddhism back in its glory in northern India.
SADHU NNBY!
Video from Nagaloka
Closely linked to NNBY is TBMSG's training facility at Nagaloka, also known as the Nagarjuna Training Institute. There's a great new video of the students there up on YouTube at
www.youtube.com/watch?v=7-bba8s1YB4
- thanks for this goes to Jess Brand from Bristol UK, who taught English there for a while in 2008.