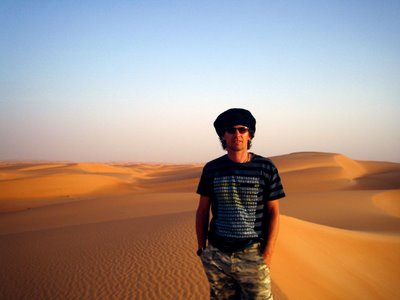 Last October FWBO News posted a story from Kieran Barry, a mitra who has for many years lived at the FWBO's Vajraloka Meditation Centre in Wales. He wrote -
"After six years in the Welsh hills, I have now left Vajraloka and am headed for very different climes. Next week I will be moving to Mauritania in West Africa..."
Nine months later he writes with an update - and an invitation to visit...
"Hello everyone. I have been living out here in Nouakchott, Mauritania for 9 months now and, on the eve of a long summer break to europe, i thought i would write to fwbo news to let you all know how things are going in this outpost of yoga and buddhism in the Sahara.
"I taught my last yoga class on saturday morning and that makes around 350 classes that i have now taught, to probably around 100 different people of all nationalities including: Mauritania, Ethiopea, Morocco, Syria, Israel, Argentina, Guatemala, Ireland, USA, Canada, Lebanon, Sri Lanka, Thailand, Algeria, Indonesia and most countries in europe...except for the UK. In fact, i have yet to meet another Brit out here!
"It has been a real pleasure to be able to help people become more aware of their bodies and minds through the practice of yoga. Most of my students are working in some very demanding situations, trying to bring democracy and aid to a country in great need of both and the opportunity to just stop and be aware for the duration of a yoga class seems to be crucial.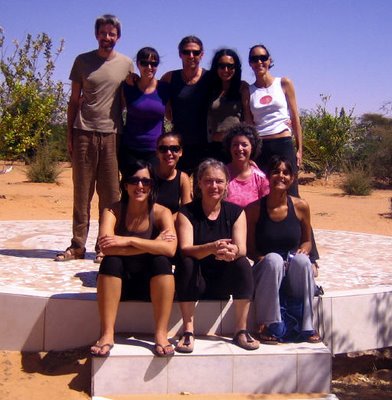 "I was particularly pleased to lead a yoga retreat out in the desert one weekend. We had the use of a fantastic auberge out in the dunes, about 100km east of the capital. Practising yoga twice a day, eating well and enjoying the inherent peace and beauty of the desert seemed to have a wonderful effect on all present and i am planning to repeat this when i get back...and when the temperatures out in the desert fall a bit!
"Apart from yoga, life here is of a slow pace. In some ways, it really isn't so different from living at Vajraloka...if a little drier. Choices are limited, and there are few distractions to speak of. One thing i have been finding time for is learning to kitesurf, a particularly demanding yet thrilling sport that makes use of one of Mauritania's few natural resources: namely, over 700km of sandy beach with only about 50 people on it at any one time.
"I am still waiting for my first fwbo visitor! West Africa is a wonderful place and Mauritania a staging post on the trek down from Morocco to Senegal and Mali. If anyone is considering coming down this way, please do get in touch...especially any yogis!
"And now, my mind is beginning to turn towards North Wales and a trip to Vajraloka to spend a few weeks on retreat; just absorbing the colour green. Best wishes to all my friends in the fwbo and maybe i will see some of you on retreat?"
Kieran Barry
Labels: africa; yoga, mauritania