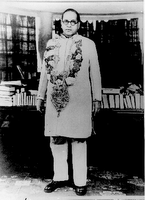 The second annual Ambedkar Day at the FWBO's
North London Buddhist Centre
is coming up on Saturday 13th September 2008,.
It's been created to celebrate the life, work, and legacy of Dr. Ambedkar, who died in 1956 but is still the inspiration to millions upon millions of India's new Buddhists. More than almost anyone else, he demonstrated the need for Dhamma practice to address both the individual and the world – inspiring Sangharakshita, and though him, the whole FWBO/TBMSG with this vision.
It's looking to be a rich and full day, running from 10 am – 10 pm, offering a feast of events and information put on by a wide variety of groups, both FWBO and other. There'll be talks by Vishvapani on 'Indian Buddhism now' and Tejadarshan on Ambedkar's Dhamma Revolution; a display by the Dalit Solidarity Network on their campaign against manual scavenging (still endemic in India) two showings of 'Recurring Dreams' (Suryaprabha's new film on TBMSG and Indian Dhamma. There'll be a selection of workshops and presentations, including Saul Deason will be reporting on his recent visits to India and to followers of Dr. Ambedkar in Hungary. There'll be Bollywood Dance by Ramesh; Hindi chanting, and DVDs and books on Caste on sale in the foyer – and even, for those needing a bit of peace and quiet, meditation workshops!
It's been timed to coincide with the local borough Islington's InterFaith Peace Week and local councillors are expected to attend.
Saul Deason, the organiser, describes his mission being "to encourage active support for Ambedkarite projects and to broaden the support for them among Buddhists and others".
Labels: Ambedkar, engaged buddhism, London, North London, Vishvapani