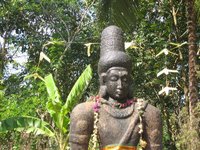 Subhuti has just completed his trip to south India – the last major event in three months hectic criss-crossing of India with the Dhammakranti Team, doing everything possible to celebrate the 50th anniversary of the conversion of Dr. Ambedkar to Buddhism. It began on 4th December flying to Calcutta and then on to Bubhaneshwar in Orissa, continuing down the east coast through Andra Pradesh and Tamil Nadu, and finishing in Trivandrum in the far South. For the most part he travelled with an Order team of Lokeshvara, Satyadeep, Manjuvir and Yashosagar, plus Nagasuri and Shraddhajyoti. Lokeshvara sends this report.
In Bubhaneshwar there was a good public programme and Subhuti met with local people. We were taken to see the Shanti Stupa just outside the town, and the site where the Emperor Asoka defeated the Kalinga empire and after surveying the carnage of the battlefield renounced violence for life and converted to Buddhism. Then a 10 hour drive into Andhra Pradesh, first to Vishakapatnam, near which there are very old Buddhist caves, and the remains of a large stupa and vihara - some beautiful carved rupas and a whole hillside covered with stupas. We did puja together in the main cave. There was a big programme at the Ambedkar Bhavan, after an overnight stay we drove onto Kakinada for another programme and good meetings. Then an 18-hour train journey to Chennai in Tamil Nadu, meeting people from Pondicherry as well as Chennai. Then a flight to Trivandrum in Kerala, almost at the tip of India. Tejabhadra has been working here for many years on his own doing very good work. Subhuti was able to meet with some of the Dhammamitras and gave one public talk. Up in the Cardamom hills there is a very old stone rupa thought to be Avalokiteshvara (see photo) and we went to visit - a two hour winding drive through palm forest and rubber trees.
In the southern States, Tamil Nadu and especially Kerala, Subhuti talked more indirectly about Dr Ambedkar than elsewhere. The Buddhists in these states feel a strong pride in their old Buddhist culture and are not as yet so strongly associated with the Ambedkarite Buddhists from the North.
As elsewhere there are so many people who want to learn about Buddhism but do not have much access to training or materials. The Nagarjuna Training Institute (NTI) in Nagpur, part-funded by Karuna and run by the TBMSG, has made a significant beginning in this respect. Students from the states we travelled through have been trained at the NTI, more are planning to train, and those who have completed the course told us how grateful they were for it.
The year ends with a 'Conference of Buddhist Youth' at Bor Dharan retreat centre near Nagpur. The events of these three months have proved again and again how widespread is the interest in Buddhism across India. The question now is how to respond most effectively - there is a great deal to reflect on and digest.
Labels: India