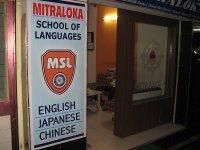 The Dhammakranti team have recently started the 'Mitraloka School of Languages' in the heart of the Nagpur City. They are teaching English and Japanese, and will soon be adding Chinese, German and Spanish classes.
In four different classes they have seventy students learning English and Japanese with many more on the waiting list. They told FWBO News they got a huge response to these classes because their School is the only Institute of its kind in central India - training people from very poor economical backgrounds in international languages. They are confident that having had the training, people will be much better placed to get jobs - Nagpur is rapidly becoming an international city with many multinational companies offering jobs for people trained in foreign languages. In some ways they are parelleling the development of the Aryaloka Computer Education, also in Nagpur, which has for some years been offering low-cost computer education to students in need.
Although the School is only three months old, due to the huge response and great need in Nagpur and in central India they are already thinking about expanding this project very soon.
Finally they have an appeal to make. Nagaketu, the Centre Director, says "We are looking for more teachers, especially in German, French, Spanish and Chinese. If anyone reading this is interested then please
contact us
!"
Labels: Dhammakranti, Nagpur, Right Livelihood