FWBO News is very sad to report the death of Dharmachari Amritavira, of Aurangabad, India. He died on Friday 7 March 2008, having been in hospital for several days, following a heart attack. The funeral took place on 8th March.
Amritavira was ordained in March 1993 and lived and worked in Aurangabad for the TBMSG centre there. He was well-known and much loved by many people.
Continuing the theme of bad news, Akasadaka from Thames, New Zealand, has sent news of a fire that recently burnt Satyananda's house to the ground.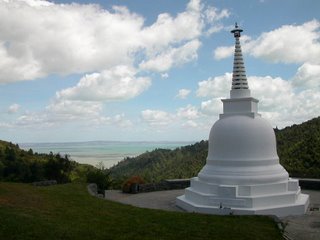 Satyananda is best known for conceiving and masterminding the construction of the FWBO's 'Sudarshanaloka' retreat centre and stupa high in the hills above Thames. Akasadaka writes -
"Around about 5pm, Satyananda's house became a blazing inferno devouring everything he owned. To contain the bushfire 55 firefighters were called in, including volunteers, along with three helicopters with 'monsoon buckets'. Fortunately no-one was hurt.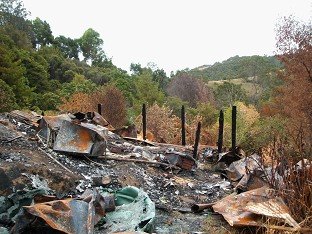 "Satyananda is now residing back at Sudarshanaloka Retreat Centre until he can sort out what he will do next. He can be called, in some ways like the monks of old, 'a man of naught' - except for the dirty laundry he had in the back of his beat-up old subaru pickup truck...
With this in mind, the Phoenix fund has been set up by some of his friends to collect donations for the purpose of helping him out. Donations of course do not need to be of the monetary kind, they could be donated goods or skills. You can
email Akasadaka
for any further information or to contribute to the appeal.
Labels: Death, India, New Zealand