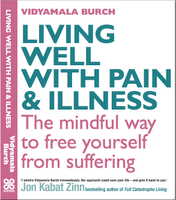 News has just reached us that last month the ethical and religious news show on BBC Radio 4 ran an interview with members of the Breathworks team at the Manchester Buddhist Centre and Professor Willem Kuyken of Exeter University.
Breathworks
is the FWBO's very successful right livelihood practice, based in Manchester, UK, pioneers of mindfulness-based pain management and stress management courses for anyone wishing to live a richer life and feel a greater sense of initiative and confidence
The program focussed on some new research by Professor Kuyken indicating that systematic mindfulness practice is just as effective as drugs or 'talking' therapy for treating depression, and that it was actually more effective for their secondary measures such as improving quality of life.
The BBC contacted the Breathworks team to have someone leading a meditation, and had Diane Kaylor (a mitra at the Manchester Buddhist Centre) speaking about the benefits of practice.
A fuller report of the research is available on-line, for instance on the
e!science news
site.
Labels: Breathworks, media, Meditation