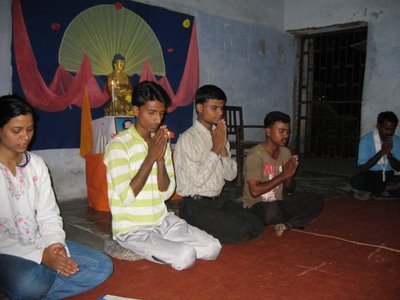 Jai Bhim International is an innovative FWBO project based in San Francisco. "Caste Free Generation" is their slogan: Ann Dennehy, Jai Bhim's Director, describes their mission as "
providing Indian Buddhist
youth with the spiritual, educational, and emotional tools to create personal and social change, for a culture freed of caste prejudice and discrimination".
They've had a busy few months, as Ann reports -


"jai bhim friends and family, near and far. i hope this message finds you all well. thanks to all of you for your support, creative support, financial support, moral support, as we launched our non-profit last year. things are going really well.

India trip
i returned from my
third india trip
in january, and am planning projects for this year in my new homebase, the bamboo garden here in san francisco. lots of support building here in sf for our work. hosting a monthly happy hour the last friday of every month. and
facebook
has been great..

"in india i spent time with our board members kumarjeev, kamalshree and nagarjuna, and re-connected with many of the youth leaders i'd met at the nnby conference last year. i spent time again in central india, in nagpur, where i piloted our teacher training workshops for indian english teachers. i also went north to delhi and to some smaller villages in rajasthan.

community english project
"in the year ahead i will be brainstorming with our indian board members and with indian youth leaders, as well as our american board members and english advisory board, about a
community english project
, which will be our main focus for 2009. our vision so far is to bring a buddhist-based esl curriculum to smaller dalit communities, and to work intensively with local indian english teachers to lead interactive, communicative student-centered english sessions that will empower language learning in their communities.

"we will be drawing on dr. ambedkar's vision, and on the vision of his mentor at columbia university, john dewey, as well as the revolutionary brazilian educator paolo freire. in addition to creating a curriculum, we are developing a manifesto for the project, so that everyone involved is clear on the project's goals. all this will be posted as updates on our website.

local events

"locally we have been hosting events to bring people together. we are having a monthly happy hour, the last friday of every month. and this summer our board member maw, our artist friends and i will coordinate a bigger local arts event. in january i was asked to make a presentation about my trip to my department at the city college downtown campus. i received a very friendly reception and was asked to present further at other campuses, which we are now coordinating. and connecticut college, my alma mater, has asked me to write an article for the alumni magazine, a beautiful glossy publication that has won several awards.

"also i wanted to tell you about our big project for the fall - jai bhim international is going to declare october as AMBEDKAR MONTH! the two goals of the project are #1 to bring people from the san francisco area into the jai bhim community through fun, and #2 to educate folks here about dr. ambedkar and the dalit buddhist movement. we are coordinating with the san francisco center, and reaching out to other buddhist centers in other traditions, as a way of spreading the word about our movement in india.


"we are scheduling a bunch of events that could lead up to a puja/kirtan on october 14th, which is a wednesday - as you know well, october 14th is the anniversary of the great mass conversion- the official start of the dalit buddhist movement.
"before then, in august and september, we're going to make as many presentations as possible all over the city/bay area, at libraries, bookstores, university and high school classes, other buddhist centers, with the theme of "who is dr. ambedkar?" i imagine plastering the city with simple posters with an image of dr. ambedkar and that line ("who is dr. ambedkar?"), and a link to the jai bhim website. a guerilla campaign! i am coordinating with friends of the public library, my colleagues at city college, and others.
"more prosaically, lots of paperwork to keep up on as we get the non-profit established. board member sarah brown has been helping me do our books and we ended 2008 with a surplus of $278.15! now we are getting ready to file additional paperwork with the i.r.s. in order for them to approve our 501c3 status. We're still busy fundraising – please visit our page
http://www.jaibhiminternational.org/wealth
"in closing i'd like to again express my gratitude for sharing the vision for our work. thank you for all your gestures of encouragement and support. jai bhim. love, ann"
Labels: Ambedkar, NNBY, San Francisco, USA