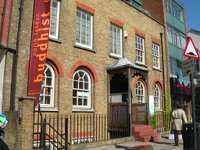 October 14th is the anniversary of the conversion to Buddhism of Dr. Ambedkar, and is a major event for all our centres in India. They celebrate his conversion to Buddhism in 1956, together with 400,000 of his followers, and his few short weeks as a Buddhist before his death on December 6th of that year. It is very much a bitter-sweet time for them.
This year they were joined by the North London Buddhist Centre who hosted an 'Ambedkar Festival' which they hope may become an annual event. Entitled 'Celebrating the New Dawn of Indian Buddhism', the day set out to educate, inspire, and celebrate - and succeeded handsomely in all three. Some 200 people attended some or all of the day, and were treated to a programme of talks, a wide selection of workshops including practical information on how to get involved (both in the UK and in India), and to both Indian and Western music which went on into the evening.
Sangharakshita had been due to give the keynote speech but sadly had to cancel at the very last minute due to his poor health. Happily, due to the foresight of Saul Deason, the organiser, Lokabandhu was primed to step in, and among other things offered his reflection that the future of the new Buddhist movement in India was very much up to us, at least up to our generation, since the great leaders of the past were no longer with us - the Buddha, Ambedkar himself, and now Sangharakshita.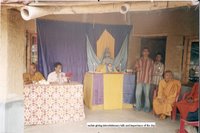 By coincidence, FWBO News came to know that at the same time, far away in Bodh Gaya, in the north-eastern Indian state of Bihar, the community living on FWBO/TBMSG's land there were conducting a small programme of their own in honour of Dr. Ambedkar, attended by some 50 local residents including Theravadin monks with whom they have become friendly. The programme took place in the earth-brick huts recently constructed by Nissoka, and was felt by those present to be a small but significant step in establishing ourselves on our land at Bodh Gaya. There are now some 10 mitras in and around Bodh Gaya.
Labels: Ambedkar, Bodh Gaya, India, North London