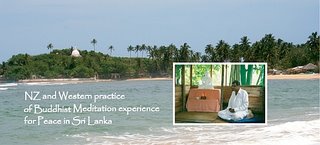 Saddhavira, an Order Member with roots in both Sri Lanka and New Zealand, has an ambitious vision for his retreat centre on Unawatuna Beach in Sri Lanka. Named Sagaraloka, 'Realm of the Ocean', he sees it as combining the best of the East and the West - the East's warmth and openness, the West's tolerance of difference and rationality.
As well as the visitors' retreat centre, Saddhavira conducts local activities. He says "We have about 12 Mitras and 8 of them have asked for ordination. There is a regular class in Colombo and also at the new retreat Centre".
The Centre has been in operation for a number of years now and is very much open to visitors. Saddhavira asks anyone visiting the area to contact him on globalbuddhist [at] gmail.com.
Labels: Saddhavira, Sagaraloka, Sri Lanka